Fort Providence is a quiet and picturesque aboriginal community on the banks of the great Mackenzie River. Our heritage is rich in Dene and Metis First Nations culture, as seen in festive public events and unique arts and crafts.
Our community is called "Zhahti Kųę" in the Dene language, which means "mission house" after the Roman Catholic mission that was established over 150 years ago. Today the Church of Our Lady of Providence, built in 1861, stands as a historic reminder of this history.
A short drive from town will take you to the Mackenzie River Bridge. Over 100 feet high, it is the only bridge to span the Mackenzie River and the longest bridge in the north.

Bison

If you've never see wood bison roaming free in the wild, you are in for a truly moving experience. If you happen to be in Fort Providence when they are casually ambling through town, then the experience reaches a whole new level, one you won't soon forget!
The Mackenzie Bison Sanctuary is a protected wildlife reserve located just east of town, so your chances of seeing these magnificent creatures are excellent.
Waterfalls and Hiking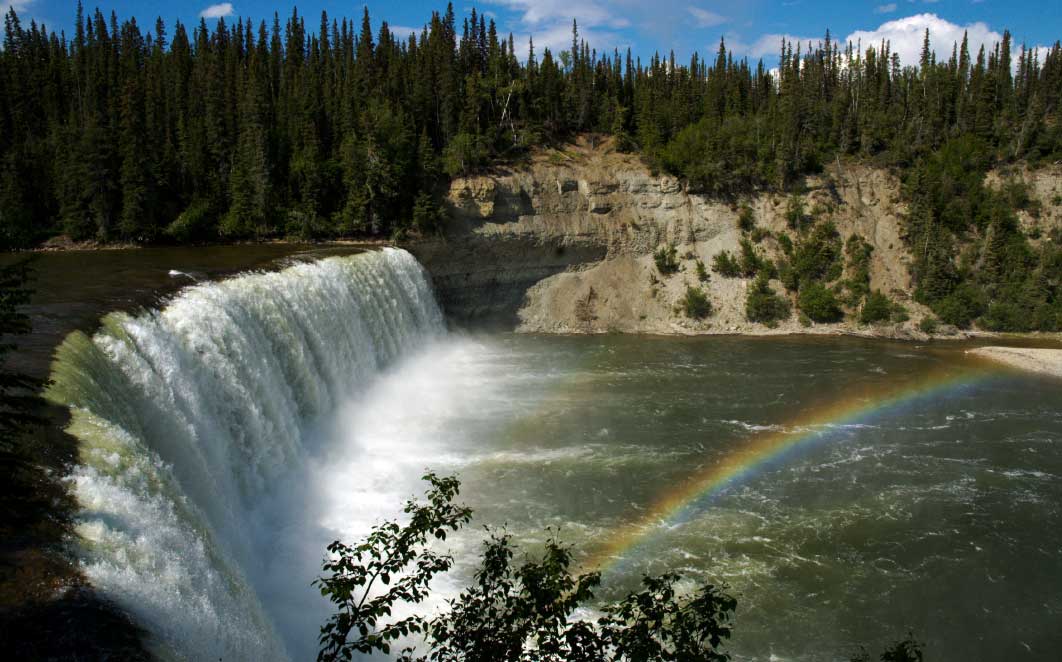 Just 20 minutes south of the community is the Waterfall Highway running from Highway 1 to Kakisa. Here you'll find various waterfall parks, fantastic views and great hiking! The three waterfalls closest to Fort Providence are the Lady Evelyn, Coral and Sambaa Deh Falls.
Explore the hiking trails and enjoy nature at its best. There are great day hikes connecting Lady Evelyn Falls and Kakisa, and between Sambaa Deh and Coral Falls.
Fishing

The MacKenzie, Hay, Trout and Kakisa Rivers comprise a spectacular system of waterways that are teeming with arctic grayling, lake trout, pickerel and northern pike. So, bring your fishing gear and enjoy! A fishing licence is required in the NWT and can be purchased in Fort Providence at the Aurora Market and the Big River Shell station. Licences can also be purchased online at https://licences.enr.gov.nt.ca/Fishing-Licence
Boating

With so many rivers in the Fort Providence area, there are endless possibilities for self-guided boating, canoeing and kayaking adventures.
Northern Lights

The Northern Lights (Aurora Borealis) are known throughout the world as one of the most spectacular natural phenomena. The Northwest Territories is widely known as one of the best places in the world to view this amazing light show. Fort Providence is no exception. Just take a short stroll from the lights of town to see the most brilliant colors! The best time to view the northern lights is between October and March, when skies are clear and nights are darker. It is then when the skies dance with one wave of colors after another, greens, yellows, blues and reds!
For more information on Northern Lights forecasts and probabilities see:
Astronomy North or Aurora Forecast
Dene Fur Clouds

The Dene people of the Northwest Territories are historically nomadic hunters and gatherers, trapping, fishing and berry picking along the shores of the Mackenzie and Liard Rivers and the Great Slave and Great Bear Lakes.
Dene Fur Clouds of Fort Providence Providence follows in the footsteps of its ancestors. Here a group of highly skilled Dene take their inspiration from the ceremonies and traditions of the past in designing and crafting a unique line of hand knit fur garments and accessories. The products are made using sheared beaver, arctic hare, fox and lynx.
To learn more about Dene Fur Clouds and view their amazing products, see denefurclouds.com
Community Events
Deh Cho Bison Jamboree – March
This fun-filled event is held annually to celebrate the coming of spring and hosts visitors from neighboring communities throughout the Deh Cho region. The week-long jamboree has many activities, including volleyball and cribbage tournaments, snowmobile races, outdoor skating, a sliding party, poker rally, hand games and a family talent show. There are also a number of popular traditional games such as the sled pull, tea boiling, egg toss, three-legged races, and log splitting and sawing competitions, as well as drum dancing and a community feast.
Aboriginal Day – June 21
National Aboriginal Day takes place every year on June 21st. It is a special day to celebrate the unique heritage, diverse cultures and outstanding achievements of First Nations,
Inuit and Metis peoples in Canada.
The Aboriginal Day festival in Fort Providence features activities such as canoe races, hand games, drum dancing and a community feast.
Canada Day Celebrations – July 1
As in most communities across Canada, Fort Providence celebrates this national holiday with a parade, various fun activities for the entire family and a community feast.

Mackenzie Days Festival – August Long Weekend
Mackenzie Days has been a traditional annual event in Fort Providence for over 40 years. This fun filled festival has something for all ages. Popular activities include a carnival, hand games tournament, jigging contests, canoe races, bingo, and parade.
Deh Gah Christmas Sled Dog Races – December
This unique northern event is a key attraction during the holiday season and brings many visitors to the community. Hosted by Stepping Stone Kennels, the Deh Gah Christmas Sled Dog Races is a weekend event held in mid-December. Teams are from across Canada. Bonded by their passion for dog sledding, the mushers are one big family coming together every Christmas for a reunion with local friends in Fort Providence.

For more information on tourism in Fort Providence, see:
http://spectacularnwt.com/dehcho-travel-connection/community/fort-providence